Gedser Fuglestation Blog
Her på Gedser Fuglestations blog bringes korte nyheder i dagbogsformat om hændelser på fuglestationen.

Se indlæg fra år: 2022 (245)2021 (271)2020 (268)2019 (239)2018 (214)2017 (236)2016 (169)(se alle)


Don't tread on the Goldcrests
tirsdag 11. oktober 2016
A very windy, very overcast and slightly damp classic autumn day; we attempted some ringing first thing with just four nets opened and it proved to be pretty productive with 115 new birds caught in just a couple of hours before the weather forced us to close including a brute of a female Northern Bullfinch, 52 Robins and 57 Goldcrests.
Today's ringing totals (two sessions with very limited nets open) - 5 Wren / Gaerdesmutte; 2 Dunnock / Jernspurv; 180 Robin / Roedhals; 6 Blackbird / Solsort; 1 Fieldfare / Sjagger; 8 Song Thrush / Sangdrossel; 2 Blackcap / Munk; 1 Chiffchaff / Gransanger; 83 Goldcrest / Fuglekonge; 1 Blue Tit / Blamejse; 1 Great Tit / Musvit; 2 Chaffinch / Bogfinke; 1 Northern Bullfinch / Stor Dompap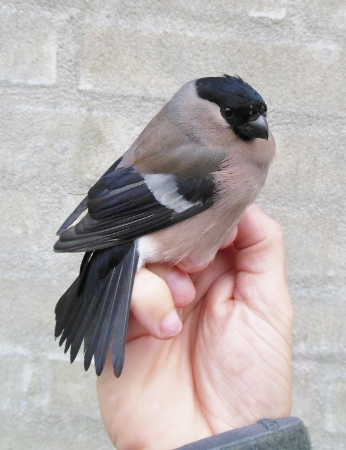 Northern Bullfinch
I then went out birding between the garden and town where it was an incredible few hours; there were literally Goldcrests everywhere, hopping around on the grass around your feet only moving when you were about to tread on them, flying in over the sea, on the beaches, in every bush and tree and along every fenceline – there must have been thousands and thousands in the relatively small area that I walked, absolutely fantastic! There were also hundreds of Robins dotted around plus a few Chiffchaffs (several pale, eastern-type birds were seen) and loads of Song Thrushes and Blackbirds with Mistle Thrushes, Fieldfares and Redwings whizzing around but very little else at all, I tried in vain to find something in-amongst the masses but failed miserably!
There were also huge Brambling, Chaffinch and Siskin flocks passing low overhead to the east into the wind with 300+ feeding on the ground on the outskirts of town; the other feature was big flocks of White-fronted Geese heading south throughout the day (4,000 were counted from the point) while 5,000+ Barnacle Geese were again in the fields and the Slavonian Grebe was still just offshore.
I then re-opened my four nets in the afternoon and during the next four hours until dusk I managed 178 new birds (walking constantly between the nets) including 128 Robins and a Fieldfare but most of the Goldcrests had left the garden by that time – fortunately! An awesome day!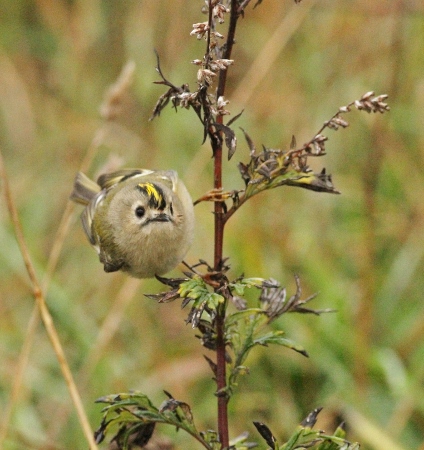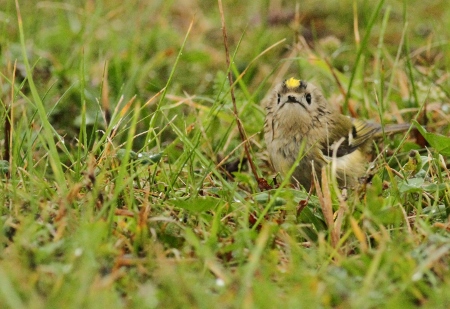 Goldcrests Goldcrests Goldcrests
More Gedser [Goldcrest] pictures at www.wykebirding.blogspot.com