Gedser Fuglestation Blog
Her på Gedser Fuglestations blog bringes korte nyheder i dagbogsformat om hændelser på fuglestationen.

Se indlæg fra år: 2019 (169)2018 (214)2017 (236)2016 (169)(se alle)


A day we thought we could not open the nets and sleep longer
tirsdag 10. september 2019
Yesterday before we were going to bed we thought it would not be possible to catch bird because the forcast was was rain rain and more rain the whole day. But when I woke up at 5 the rain radar showed that we had a window with no rain for almost an hour. So we opened the nets and caught bird for about two and a half hours. In total we had 35 birds (see Table). This time no pictures, but i will try to get a few nice ones tomorrow. So we did some shopping, some other personal things. I, for instance, was putting my own ringed birds, caught at home or in Gjerrild, into the database of the museum. There was time for yoga. Time for an additional nap. Time for learning al the features of the moulting strategies of the bird species. time for making a portuguese apple desert (we still have to find out how it taste, because we could not buy mint tea or mint in Gedser and I had to use oil instead of butter because some of us are vegans). So you see we were busy. Benny entertained a group even with having no birds to show (at ten and later it was raining). And as always he brought fresh bread, a very much appreciated habit of him.
I asked Jón to introduce himself:
Jeg hedder Jón Aldará, kommer fra Færøerne og er uddannet biolog fra Københavns Universitet. Jeg har arbejdet med lidt af hvert, men de seneste år har fokus især været på havfugleøkologi. Som ansat på Færøernes Naturhistoriske Museum tager jeg mig blandt andet af at administrere den færøske ringmærkergruppe, monitere havfugle, organisere og katalogisere vores hav- og landdyresamlinger, formidle museets aktiviteter og lave mange diverse små og store opgaver i forbindelse med naturformidling.
Desuden er jeg meget aktiv musiker, og spiller meget rundt omkring i Europa med mit hovedband, Hamferð. Genren er meget sammensat, men har hovedsagelig sin base i metal af den hårde slags!
I løbet af min tid på Gedser var jeg også i USA og spillede koncert for allerførste. Dette var med mit finske band, Barren Earth, hvor jeg er den eneste ikke-finne.
Min tid på Gedser Fuglestation har været fantastisk indtil videre, selvom vejret har forhindret ringmærkningsarbejdet en hel del. Forhåbentlig får vi bedre vejr de kommende dage. Hvem ved, måske får noget usædvanligt i nettet. Vi fik fat i en dværgfalk på min første dag hér, så lad os håbe at heldet vender tilbage!
Birds caught and recatures today: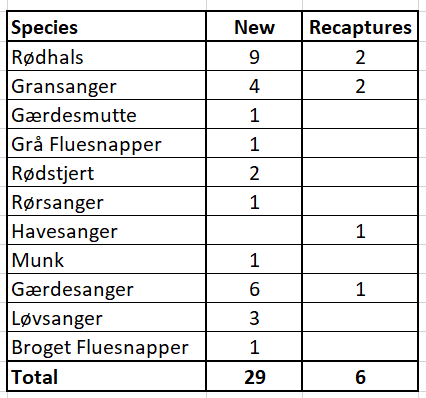 With kind regards, we are now going to try the vegan apple desert from Portugal (maybe I will tell you how it tasted tomorrow).
Ciao Robert