Gedser Fuglestation Blog
Her på Gedser Fuglestations blog bringes korte nyheder i dagbogsformat om hændelser på fuglestationen.

Se indlæg fra år: 2019 (107)2018 (214)2017 (236)2016 (169)(se alle)


A bit busier today
tirsdag 4. juni 2019
with 31 birds of 14 different species. And mothers making homes.
Even the first net round seemed different with the first bird from the net being a Spotted Flycatcher. The second round is often thought more productive than the first with the birds having got up and done what birds do when they first get up. This time a nice male Red-backed Shrike had jumped into the nets.
The rest of the morning was brisk with with time to look at the birds in details. The retrap Greenfinch that I caught was still carrying a piece of moss when it got caught in the net. At this time of year a resident bird may be on it's second brood, while summer visitors will still be on eggs or have young chicks. The Redstart in the garden is on eggs. I'll let you know when they hatch.
Most females of passerines develop a brood patch (rugeplet) when nesting. They lose belly feathers and the blood vessels become closer to the surface. This enables the eggs to stay warm. The brood patch remains until the chicks are able to control their own body temperature. Examining the birds today shows that most of the warblers are at the egg/small young stage.
I've photographed a brood patch on a Lesser Whitethroat. A bit of out of focus rubbish, but difficult trying to blow a birds belly and photograph the evidence is not easy. You get the idea.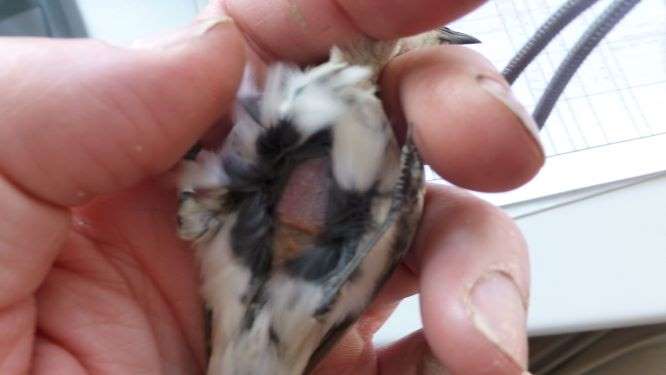 Lesser Whitethroat brood patch (rugeplet)
Sometimes you can't aways anticipate what you are going to get in the nets. There are things that you want:-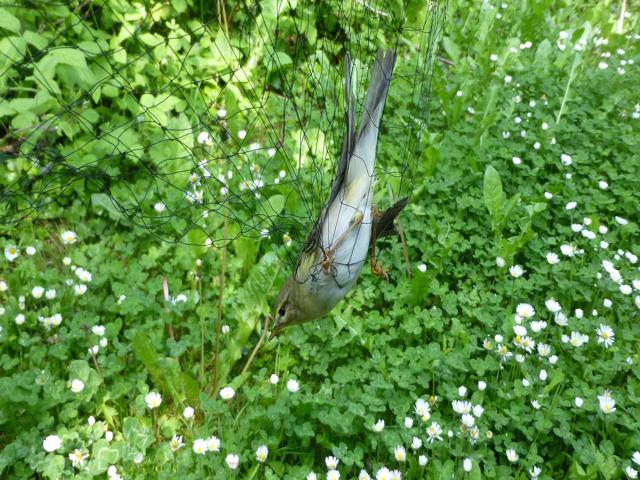 Things you don't want:-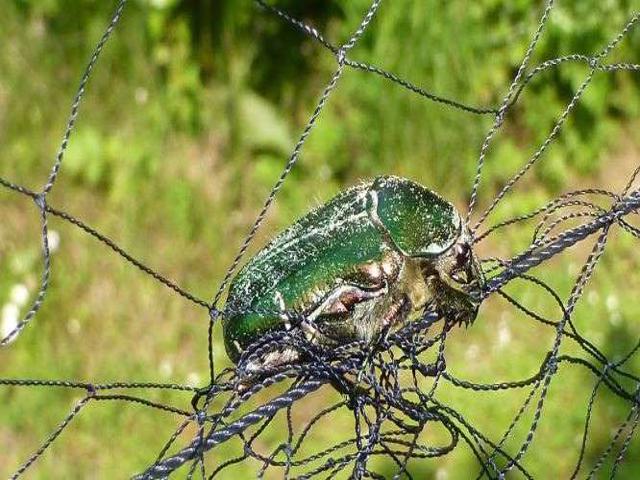 And things you definitely don't want:-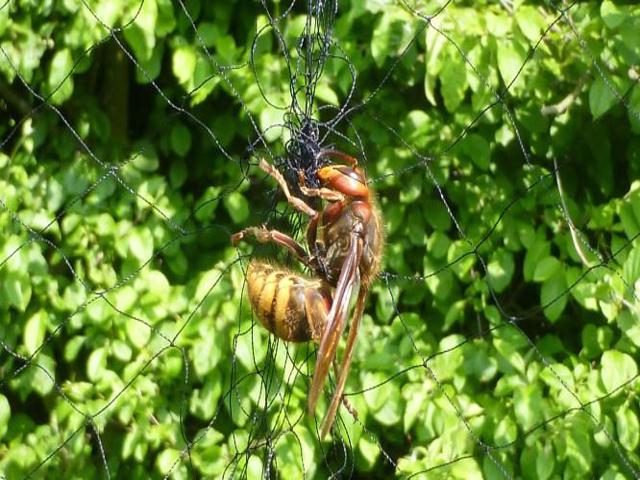 A big hornet (gedehams). I found a new use for my ringing pliers.
Here are today's totals:-
Redstart 1
Marsh Warbler 2
Reed Warbler 1
Icterine Warbler 6
Lesser Whitethroat 1 (2)
Garden Warbler 3 (1)
Blackcap 1
Chiffchaff 2
Willow Warbler 5
Spotted Flycatcher 1
Pied Flycatcher 1
Red-backed Shrike 2
Common Rosefinch 1
Greenfinch 0 (1)
Totals 27 (4)
Have a good evening and don't let the stingers sting.
Hilsen
Nigel