Gedser Fuglestation Blog
Her på Gedser Fuglestations blog bringes korte nyheder i dagbogsformat om hændelser på fuglestationen.

Se indlæg fra år: 2022 (187)2021 (271)2020 (268)2019 (239)2018 (214)2017 (236)2016 (169)(se alle)


Now its autumn!
torsdag 1. september 2016
Very similar to yesterday although even calmer through the morning so it was not too much of a surprise that the ringing session was also very similar to yesterday with 76 new birds caught; there was again a mix of early and later autumn migrants with Robins, Dunnocks and Blackcaps featuring prominently along with the first Chaffinch of the autumn but there was also 2 Marsh Warblers, an Icterine Warbler and a Thrush Nightingale caught while of note as well were 17 Lesser Whitethroats and the second Nuthatch of the year.
The totals today - 3 Dunnock / Jernspurv; 6 Robin / Roedhals; 1 Thrush Nightingale / Nattergal; 2 Redstart / Roedstjert; 1 Blackbird / Solsort; 1 Song Thrush / Sangdrossel; 2 Marsh Warbler / Kaersanger; 1 Icterine Warbler / Gulbug; 17 Lesser Whitethroat / Gaerdesanger; 2 Whitethroat / Tornsanger; 2 Garden Warbler / Havesanger; 9 Blackcap / Munk; 1 Chiffchaff / Gransanger; 4 Willow Warbler / Loevsanger; 1 Pied Flycatcher / Broget Fluesnapper; 1 Blue Tit / Blamejse; 1 Nuthatch / Spaetmejse; 20 Tree Sparrow / Skovspurv; 1 Chaffinch / Bogfinke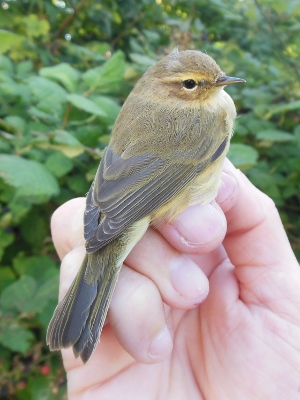 Chiffchaff
Several small flocks of Blue Tits piled into the garden but [fortunately!] avoided the nets while also seen were 2 Spotted Flycatchers, at least 2 Great-spotted Woodpeckers and a few Tree Pipits overhead. Raptors were a bit slow with the usual handful of Sparrowhawks and a couple of Honey Buzzards seen, both of which were generally heading due west over the garden but Louis et al out on the tip scored with a second year male Red-footed Falcon which flew south mid-afternoon.
I had a brief look at Bøtø in the small window between a very heavy spell of rain in the afternoon and the sun reappearing and blinding you as you looked west from the tower but it was fairly quiet as the few waders included a juvenile Temminck's Stint, 3 juvenile Curlew Sandpipers and 6 Spotted Redshanks along with Wood Sandpipers, Green Sandpiper, Greenshank, Ruff and Dunlin; also of note were 6 Cranes , 2 Great White Egrets and several Water Rails including an adult with a still all black, tiny chick. A flock of 5 smart summer plumaged Grey Plovers flew over the garden in the evening.
For more pictures from around Gedser look at www.wykebirding.blogspot.com