Gedser Fuglestation Blog
Her på Gedser Fuglestations blog bringes korte nyheder i dagbogsformat om hændelser på fuglestationen.

Se indlæg fra år: 2022 (187)2021 (271)2020 (268)2019 (239)2018 (214)2017 (236)2016 (169)(se alle)
Se indlæg fra måned: mar. (1)maj (30)juni (15)juli (15)aug. (31)sept. (29)okt. (31)nov. (17)


We have no time to stand and stare
tirsdag 20. september 2016
Another fantastic ringing day with the light wind moving into the north and cloud cover coming and going throughout but warm and sunny in the afternoon; it was by far the biggest ringing total so far this year with an excellent 665 new birds caught during an all-day effort with the main species comprising 283 Robins, 149 Chiffchaffs and 111 Goldcrests supported by 34 Wrens, 20 Dunnocks and 26 Blackcaps. The highlights in the day's catch were a smart first winter Barred Warbler (the second of the autumn), a Marsh Warbler and a Great-spotted Woodpecker along with other little bits including Tree Pipit, 2 Redstarts, 3 Reed Warblers and the first 3 Bramblings of the autumn.
Today's totals in full - 1 Great-spotted Woodpecker / Stor Flagspaette; 1 Tree Pipit / Skovpiber; 34 Wren / Gaerdesmutte; 20 Dunnock / Jernspurv; 283 Robin / Roedhals; 2 Redstart / Roedstjert; 1 Marsh Warbler / Kaersanger; 3 Reed Warbler / Roersanger; 1 Barred Warbler / Hoegesanger; 2 Common Whitethroat / Tornsanger; 2 Garden Warbler / Havesanger; 26 Blackcap / Munk; 149 Chiffchaff / Gransanger; 3 Willow Warbler / Loevsanger; 111 Goldcrest / Fuglekonge; 2 Blue Tit / Blamejse; 1 Great Tit / Musvit; 4 Tree Sparrow / Skovspurv; 3 Chaffinch / Bogfinke; 3 Brambling / Kvaerkefinke; 1 Greenfinch / Groenirisk; 2 Siskin / Groensisken; 4 Lesser Redpoll / Lille Grasisken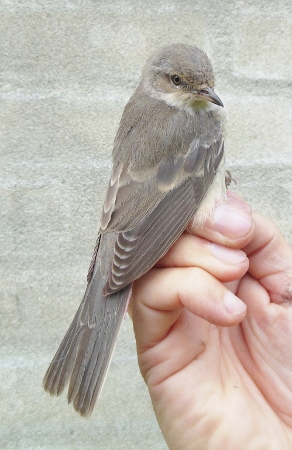 Barred Warbler
Birds overhead and away from the nets were few and far between (mainly because we had no time to look around!) but did include a White-tailed Eagle, a Merlin, a Common Buzzard and a few Sparrowhawks cruising around, a Spotted Flycatcher in the garden and 70+ Golden Plover while overhead passage was limited to a few Chaffinch, Brambling and Siskin flocks along with a few White Wagtails and Tree Pipits.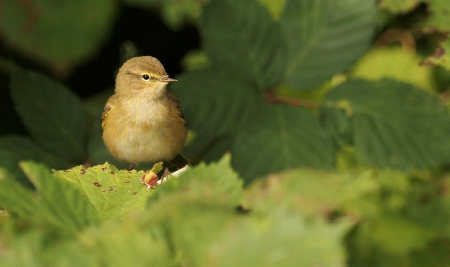 The garden was alive with Chiffchaffs!
For more Gedser pictures www.wykebirding.blogspot.com