Gedser Fuglestation Blog
Her på Gedser Fuglestations blog bringes korte nyheder i dagbogsformat om hændelser på fuglestationen.

Se indlæg fra år: 2022 (245)2021 (271)2020 (268)2019 (239)2018 (214)2017 (236)2016 (169)(se alle)
Se indlæg fra måned: mar. (1)maj (30)juni (15)juli (15)aug. (31)sept. (29)okt. (31)nov. (17)


Same Same
fredag 30. september 2016
Same same again with strong winds and clouds coming and going but with occasional heavy showers scudding through in the afternoon; the ringing was even quieter with only 8 new birds caught including a young male Sparrowhawk. There was more activity overhead though with several each of Tree Pipit and Grey Wagtail with decent flocks of Chaffinch, Brambling, Siskin, White Wagtails and Meadow Pipits passing over the garden.
Today's less than meagre totals - 1 Sparrowhawk / Spurvehoeg; 3 Wren / Gaerdesmutte; 1 Robin / Roedhals; 1 Song Thrush / Sangdrossel; 1 Goldcrest / Fuglekonge; 1 Chaffinch / Bogfinke
I headed off mid-morning for a walk up the coast but I failed to find any eastern vagrants but there were good flocks of Chiffchaffs and Goldcrests in the forest which contained pretty much nothing else; there was more passing south along the coast though with big flocks of Siskins the main feature (3,000 were counted at the point through the day) along with a few Crossbill flocks amongst smaller numbers of other Finches and Pipits. An Osprey and 4 Honey Buzzards also went south while there were several Rough-legged Buzzards and Red Kites across the fields just drifting about.
Little else through the afternoon with 3 Black Redstarts in the harbour and another couple of each of Honey Buzzard and Rough-legged Buzzard during a drive along the lanes criss-crossing the fields to the north of Gedser.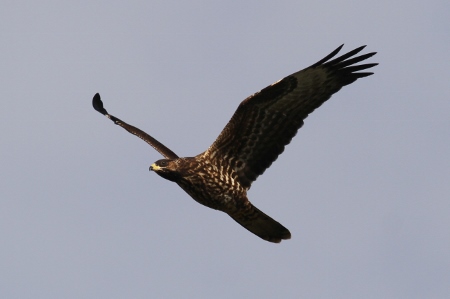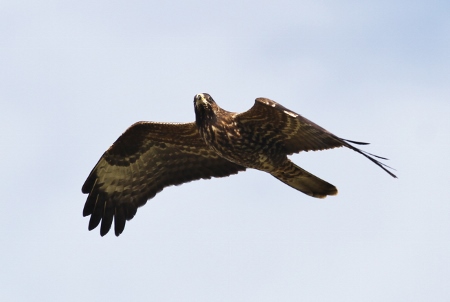 Honey Buzzard
For more Gedser pictures www.wykebirding.blogspot.com