Gedser Fuglestation Blog
Her på Gedser Fuglestations blog bringes korte nyheder i dagbogsformat om hændelser på fuglestationen.

Se indlæg fra år: 2022 (187)2021 (271)2020 (268)2019 (239)2018 (214)2017 (236)2016 (169)(se alle)
Se indlæg fra måned: mar. (1)maj (30)juni (15)juli (15)aug. (31)sept. (29)okt. (31)nov. (17)


They never stop
fredag 21. oktober 2016
After some prolonged rain overnight it was another fantastic October day with another all day ringing session in sometimes very pleasant conditions; we were again flat out through the morning with the bulk of the 715 Goldcrests being caught which in turn formed most of the 917 new birds trapped; there were again some good highlights with a stunning PALLAS'S WARBLER caught in the afternoon along with another Yellow-browed Warbler, 2 Firecrests and 9 Northern Bullfinches.
Todays totals - 31 Wren \ Gaerdesmutte; 94 Robin \ Roedhals; 3 Blackbird \ Solsort; 2 Song Thrush \ Sangdrossel; 3 Redwing \ Vindrossel; 1 Blackcap \ Munk; 1 Pallass Warbler \ Fuglekongesanger; 1 Yellow-browed Warbler \ Hvidbrynet Loevsanger; 28 Chiffchaff \ Gransanger; 715 Goldcrest \ Fuglekonge; 2 Firecrest \ Roedtoppet Fuglekonge; 14 Blue Tit \ Blamejse; 7 Great Tit \ Musvit; 1 Treecreeper \ Traelober; 1 Chaffinch \ Bogfinke; 3 Lesser Redpoll \ Lille Grasisken; 9 Northern Bullfinch \ Stor Dompap; 1 Reed Bunting \ Roerspurv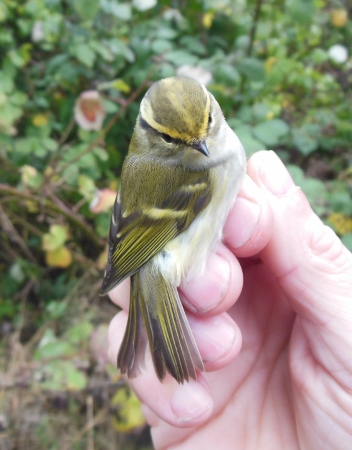 Overhead passage was much reduced from yesterday but there were still Finch flocks and really high Fieldfare flocks heading out (30,000 were counted at the point although they weren't obvious over the garden) while other little bits included a couple of Hawfinches, a Woodlark, a few raptors with 4 Rough-legged Buzzards, a couple of Red Kites and many Sparrowhawks seen and some big Barnacle and White-fronted Goose flocks.
Other things of note included my first 2 Whooper Swans of the autumn which flew noisily over the garden at first light, 2 Black Redstarts and an awesome little Weasel which was capering around my feet near one of the nets at dusk – hopefully he doesn't get start to associate them with food….
More Gedser pictures at www.wykebirding.blogspot.com