Gedser Fuglestation Blog
Her på Gedser Fuglestations blog bringes korte nyheder i dagbogsformat om hændelser på fuglestationen.

Se indlæg fra år: 2022 (187)2021 (271)2020 (268)2019 (239)2018 (214)2017 (236)2016 (169)(se alle)
Se indlæg fra måned: mar. (1)maj (30)juni (15)juli (15)aug. (31)sept. (29)okt. (31)nov. (17)


Fairly bright and very breezy
lørdag 8. oktober 2016
Fairly bright and very breezy; the nets were pretty productive as we managed a respectable 177 new birds through the morning, again with no real highlights though, the bulk of the birds made up of another influx of 55 Blue Tits including a Swedish ringed bird (most likely from Falsterbo as tens of thousands have been passing through there in the last week) while the rest largely consisted of 19 Wrens, 14 Dunnocks, 22 Robins, 23 Chiffchaffs and 18 Goldcrests.
Today's totals - 2 Sparrowhawk / Spurvhoeg; 19 Wren / Gaerdesmutte; 14 Dunnock / Jernspurv; 22 Robin / Roedhals; 4 Blackbird / Solsort; 7 Song Thrush / Sangdrossel; 1 Blackcap / Munk; 23 Chiffchaff / Gransanger; 18 Goldcrest / Fuglekonge; 55 Blue Tit / Blamejse; 5 Chaffinch / Bogfinke; 2 Brambling / Kvaerkerfinke; 1 Greenfinch / Groenirisk; 2 Siskin / Groensisken; 2 Reed Bunting / Roerspurv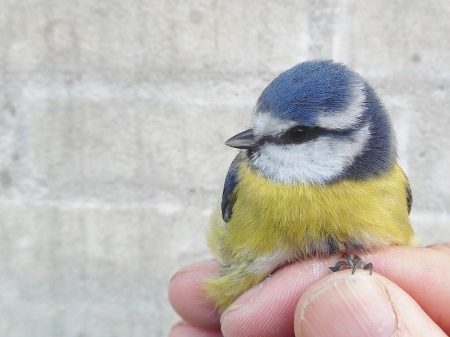 The Swedish Blue Tit
Overhead migration was much reduced (Blue Tit flocks not withstanding) with small numbers of Finches and Thrushes passing over but the morning's highlight was definitely good views of a very smart adult RED-BREASTED GOOSEwhich was picked out from the point coming in to land with the huge flock of 3,000+ Barnacle Geese in stubble fields on the edge of town, we drove down the road for a brief look mid-morning and had excellent scope views.
I then walked a big loop through town and across the fields in the afternoon for little reward with my first Short-eared Owl of the autumn along the cliff top and a flock of 13 Woodlarks at Birkemose the highlight along with 3 lingering Swallows and a Merlin of note.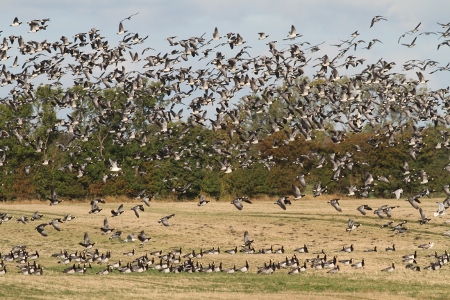 The Red-breasted Goose is in there somewhere!
More Gedser pictures at www.wykebirding.blogspot.com