Gedser Fuglestation Blog
Her på Gedser Fuglestations blog bringes korte nyheder i dagbogsformat om hændelser på fuglestationen.

Se indlæg fra år: 2023 (277)2022 (265)2021 (271)2020 (268)2019 (239)2018 (214)2017 (236)2016 (169)(se alle)
Se indlæg fra måned: mar. (1)maj (30)juni (15)juli (15)aug. (31)sept. (29)okt. (31)nov. (17)


Rain delay
tirsdag 18. oktober 2016
Rain for the first few hours of the morning delayed proceedings but when it finally stopped around 09:00 the garden was jumping with birds; some nets were gradually opened, with one of the first birds to be caught being a smart first winter Red-breasted Flycatcher, from where we managed a very decent 571 new birds through the rest of the day. Obviously the totals were dominated by 447 Goldcrests but also included 20 Chiffchaffs and 58 Robins while a bit of quality was added with a cracking Hawfinch, another Firecrest, a Common Redpoll with some Lessers which came into roost and a Treecreeper.
Todays totals (not standardised) 6 Wren \ Gaerdesmutte; 58 Robin \ Roedhals; 3 Blackbird \ Solsort; 1 Blackcap \ Munk; 20 Chiffchaff \ Gransanger; 447 Goldcrest \ Fuglekonge; 1 Firecrest \ Roedtoppet Fuglekonge; 1 Red breasted Flycatcher \ Lille Fluesnapper; 2 Coal Tit \ Sortmejse; 7 Blue Tit \ Blamejse; 3 Great Tit \ Musvit; 1 Treecreeper \ Traelober; 3 Chaffinch \ Bogfinke; 6 Siskin \ Groensisken; 1 Linnet \ Tornirisk; 1 Common Redpoll \ Norlig Grasisken; 9 Lesser Redpoll \ Lille Grasisken; 1 Hawfinch \ Kernebider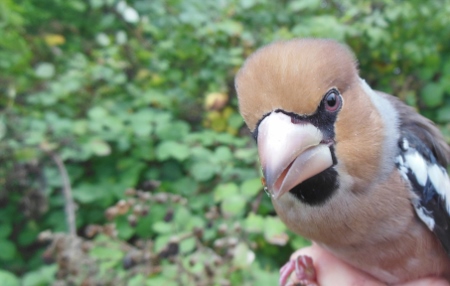 It was also very lively overhead as soon as the rain cleared through with flocks of Finches again pouring overhead with these early flocks being joined by 5 Woodlarks, a Serin, 3+ Hawfinches and a few Crossbill flocks. I didn't really see much else through the day as I was ringing constantly throughout although an adult Little Gull did fly over the garden in the afternoon.
More Gedser pictures at www.wykebirding.blogspot.com