Gedser Fuglestation Blog
Her på Gedser Fuglestations blog bringes korte nyheder i dagbogsformat om hændelser på fuglestationen.

Se indlæg fra år: 2022 (245)2021 (271)2020 (268)2019 (239)2018 (214)2017 (236)2016 (169)(se alle)
Se indlæg fra måned: feb. (1)mar. (29)apr. (30)maj (31)juni (16)juli (14)aug. (31)sept. (32)okt. (31)nov. (23)dec. (1)


Lorteland :-)
lørdag 30. november 2019
Ja du læste rigtigt: Pis og lort (shit and more shit)!
Det er sådan (bl.a.), at fuglestationen/erne skal overleve fremover: Det nye budget for fuglestationerne er netop blevet konfirmeret på det nyligt afholdte REP-møde, og det fremgår heraf, at stationerne skal klare en ret pæn selvfinanciering fremadrettet, også selvom vi tilsyneladende får mere udbetalt fra "Store DOF" :-).
- - - skulle hilse og sige, at sådan har vi forresten altid gjort!
- - - så lidt af dagens arbejde bestod i:
1) Sælge ud af arvegodset: (Forskellige fuglebøger og et par udstoppede fugle)
2) Ud og finde noget lort! Her er forklaringen: Fuglestationen har gennem de senere år været med i forskellige sygdomsundersøgelser som f.eks. salmonella, WestNileVirus og flåtbårne sygdomme. En del af årene har vi desuden involveret os i at tage ekskrementprøver af de rovfugle (mest spurvehøg), som vi har taget i nettene, men det har ikke givet mere end cirka 40 i år, hvor vi andre år har været over de 100!
Så vi stod og manglede noget at tage prøver af, og museet opfordrede os til at få prøver af bl.a. andefugle og måger. Det er ikke noget vi fanger ret meget af, så metoden er at f.eks. at finde en flok bramgæs (ganske let!), liste ind hvor de har stået og tage en lille lorteprøve op i et sterilt glas med speciel væske og sende det ind til Seruminstituttet sammen med et udfyldt EXCEL-ark plus et andet skema, helst dagen efter.
Fuglestationen får så efterfølgende udbetalt udlagt porto og et beløb pr. prøve som tak for indsatsen. Derfor er det vigtigt med forskellige måder at skrabe penge ind til fuglestationerne - I kender ordsproget: Mange bække små - osv!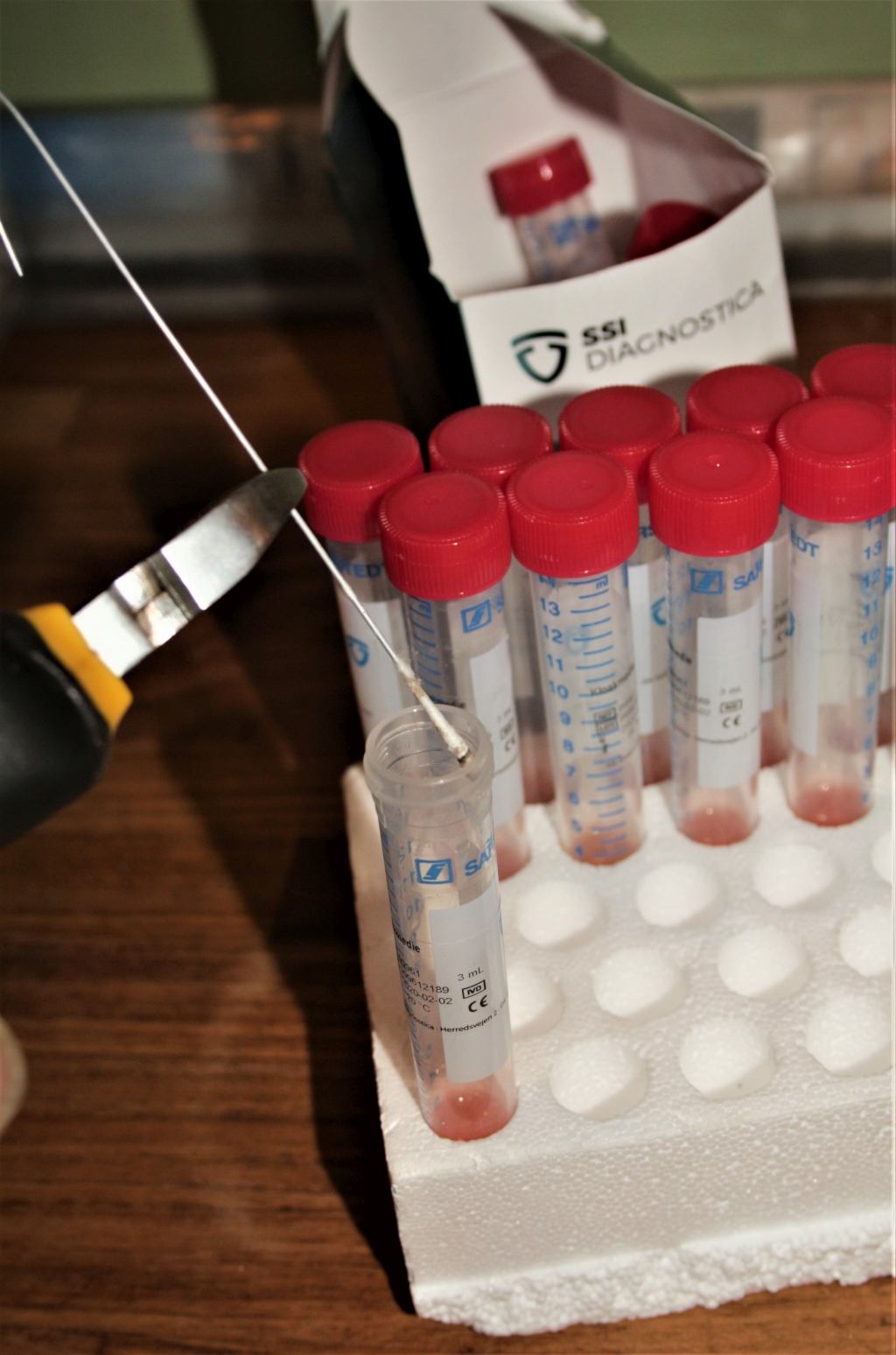 Dagens AIV-prøver af stormmåge (Common Gull)
Target-arterne er udover rovfugle, måger og andefugle desuden enkelte vadefuglearter, duer og kragefugle. Forleden dag fandt jeg således en lokal flok råger, der fouragerede i kanten af en stubmark, lige ved Gedser Gl. Landevej: Det gav 8 prøver, som blev sendt i torsdags, og i dag var der held igen med en ren flok stormmåger, hvilket resulterede i hele 15 prøver.
De sidste 4 prøver skal gemmes til en flok sangsvaner, og jeg skal nok finde dem!
Så selvom sæsonen med ringmærkning er slut for denne gang (i hvert fald med Ramón og Gail), så er der masser at lave. Jeg kan desuden nævne:
Styregruppemøde i morgen søndag,
På mandag kommer der en fotograf, der skal have nogle optagelser i kassen af hvordan ringmærkning foregår - til brug for en lille film om det DOF står for. Vi må håbe, at der er en fugl eller to at fange.
Senere i næste uge skal alle net tages ind for vinteren, og der skal holdes besigtigelse af haven sammen med folk fra Landvindingslavet med henblik på topkapning af træer og buske.