Gedser Fuglestation Blog
Her på Gedser Fuglestations blog bringes korte nyheder i dagbogsformat om hændelser på fuglestationen.

Se indlæg fra år: 2022 (188)2021 (271)2020 (268)2019 (239)2018 (214)2017 (236)2016 (169)(se alle)


Bag skyerne er fuglen altid blå!
fredag 22. juli 2016
Fra opstart d. 20 og frem til d. 29 hjælper jeg, Rasmus Momme, Simon med at ringmærke fugle her på GFU!
I dag har jeg så fået lov til at skrive blog, så i dag får i den på dansk.
Egentlig bør bloggen vel mest handle om dagens fangst, så jeg er måske egentlig ikke den rette til at skrive i dag. Jeg har nemlig stort set ikke rørt en fugl i dag... for der skete nemlig noget vildt!!!
Dagen startede som den plejede, med at sætte net op kl. 4. Der var ikke så mange fugle i haven, og første runde var helt tom. På anden runde piller Simon en enkelt fugl ud, og jeg går så videre til de næste net, som er tomme. Pludselig spørger han:
"Rasmus, have you ever seen black shouldered kite?" Jeg kan se at han står med stationsmobilen fremme.
"Yeah... i've seen one in South Africa once, why?" spørger jeg så, mens min puls stiger en anelse!
"Because Louis have just seen one!"
WHAT! Jeg går en lille smule i panik indeni! Jeg ringer til Louis, og får at vide at den er gået ned, formentlig til rast, nord for stationshaven. Vi skynder os ud på vejen, og Simon spotter ret hurtigt noget lyst i toppen af et levende hegn. DET ER DEN!!! Louis kommer hurtigt, og Simon fortsætter med mærkningen, mens vi dokumenterer!
Danmakrs (tror jeg) 9. blå glente bliver således siddende i den samme busk de næste 2½ timer, hvor der kommer flere og flere birdere til. Den flyver derefter lidt længere væk mod birkemosen, og Gert, jeg og nogle andre kører rundt om hen til den. Vi ser den nogle minutter, hvorefter den letter, og ryger nordvest! HOLY SH*T en oplevelse!
Simon klarer resten af mærkningen om formiddagen, og jeg går lidt ud på odden til Gert og Gedsers ukronede Fuglekonge Louis, hvor der ikke sker de store, bortset fra en fed gul høsommerfugl, som var ny art for mig!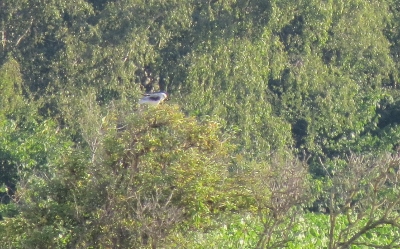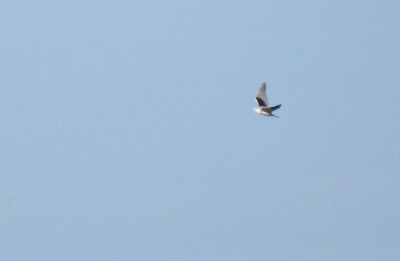 Dagens mærkning:
Tårnfalk - 1, Hvid vipstjert - 1, Husrødstjert - 1, Rødstjert - 2, Kærsanger - 3, Gulbug - 7, Gærdesanger - 1, Tornsanger - 1, Gransanger - 2, Skovspurv -1
Jeg satte lidt net op igen om eftermiddagen, uden den store fangst, bortset fra, at den unge tårnfalk, som i løbet af de dage jeg har været her, har formådet at sidde på næsten hver eneste netpæl i haven uden at gå i et net, endelig ryger i! Og den var Simon flink at give mig lov til at sætte ring på, så jeg fik da mærket én.
Men den kommer der først billeder af i morgen.